DALIT HADASS WARSHAW: THEREMIN BIOGRAPHY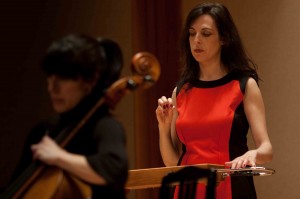 "She played with unassuming grace … The music was unearthly … This is the kind of concert that 2013 was supposed to have …." ~ San Francisco Chronicle, June 2013
An internationally acclaimed composer, pianist and thereminist, Warshaw's works have been performed by over twenty-six orchestral ensembles, including the New York and Israel Philharmonic Orchestras (Zubin Mehta conducting), the Boston Symphony, the Cleveland Orchestra, the Houston Symphony, the Y Chamber Orchestra, the Colorado Symphony, the Albany Symphony and the Grand Rapids Symphony.
Having studied theremin with the renowned Clara Rockmore from an early age, Warshaw has appeared as thereminist with such ensembles as the New York Philharmonic, the Boston Symphony, the American Symphony Orchestra and the Royal Stockholm Philharmonic, performing in spaces such as Carnegie Hall, Disney Hall and Alice Tully Hall. In June 2013, her ensemble works for theremin were recently featured on the San Francisco Symphony Chamber Music Series, for which she performed as guest soloist.
Her CD, Invocations, was released in January 2011 and is available on Albany Records. Along with providing a diverse representation of her compositional language, this disc integrates the theremin with acoustic ensembles in ways that exhibit the more lyrical, vocal and expressive capacities of this unusual instrument, and that reveal its limitless ways of blending and interacting with different timbral combinations. On it, she performs on a unique and profoundly historical instrument: Clara Rockmore's theremin, which was built and customized to her specifications by its inventor, Lev Termen, in the early 1930's, and on which she last performed in 1993.
Warshaw is also a frequent champion of her colleagues' music, debuting theremin parts of composers such as Derek Bermel and David Del Tredici, also performing the American premiere of Andrew Norman's "Air" for theremin and orchestra with the Boston Modern Orchestra Project in January 2012.
A full-time composition faculty member at the Boston Conservatory from 2004 to 2014, Warshaw now serves on the composition faculty at CUNY Brooklyn College. She is a graduate of Columbia University and the Juilliard School, obtaining her doctorate in 2003. She has held residencies at the Yaddo and MacDowell Artist Colonies, as well as at the Virginia Center for the Creative Arts.